As we all know that health drinks boost our immune system and gives us a lot of energy to work. These drinks can also work as a protective shield for the body from outer disease and overall holistic healing and wellness. Drinks are also classified in to types, one for the winter or cold weather and one for the hot weather. For winter or cold, drinks are mostly preferred to be warm or that kind which can provide heat or warmness to the body. Such drinks will help us to be warm as suggested by suggested by a renowned global health coach, Vidhi Beri.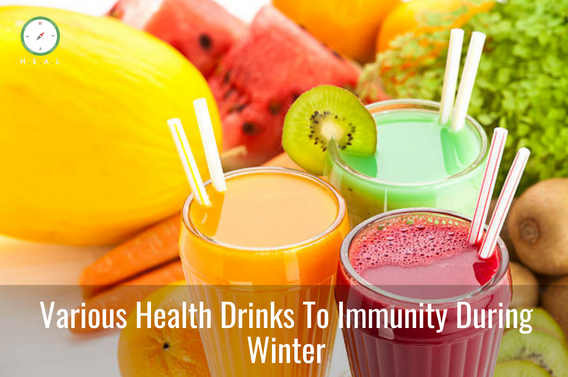 There are many drinks for the winter season, some of the drinks are as follow-
Here are some of the effective immunity-boosting juices that can add to the winter diet:
1. Beet-root carrot and apple juice:
The fresh winter special beetroot and carrots are combined with sweet apples to make this powerful immunity booster. A dash of lime makes every sip super refreshing.
2. Warm apple and keno winter punch:
Christmas is around the corner and we need a special drink recipe handy to celebrate the festival with our family. This warm mock tail made with apple, orange and pineapple fruit is just perfect. To spice it up, cinnamon, nutmeg, lemon and cloves are also added, which are balances with the sweetness of honey. That provides heat and a sparkling energy to the immune system.
3. Samba:
Cinnamon, ginger, orange juice, apple juice, honey and lemon. These are the goodness of all these foods mixed together in one drink. It will give a pleasant feel rejuvenated every time you finish a tall glass of this delicious drink. Ginger will provide heat, orange is rich with vitamin-c and honey will make the immunity strong.
4. Beetroot and pomegranate juice:
This hot pink drink is perfect to be in "the pink of health". Beetroot and pomegranate are combined with aloe Vera, and seasoned with black pepper powder to chum out a lip smacking winter juice.
5. Orange and basil juice:
Orange and basil juice, tangy and juicy orange is the highlight of winter produce. Add fresh basil leaves to it and sweeten it all with some honey-a vitamin C-rich drink for good health and taste is ready.
6. Orange and carrot juice:
Fresh orange and winter-special red carrots, when mixed together produce an overwhelming flavor. You can never go wrong with this fruit and vegetables juice in the winter. The carrot is very useful in winter days because it raises the blood and provides the heat to the body.
7. Cucumber, kale and spinach juice:
So to make sure the body's immune system is up and running, one should include of greens to their diet. It is advised to eat more and more spinach in winters as it is not only rich in beta-carotene, but also packed with essentials antioxidants and vitamins C, which helps the body to fight against infections.
Vidhi Beri is a renowned Global Educator and Specialist in the fields of Holistic Health, Lactation, Maternal Health Wellness, Child Nutrition, and Children's Milestone Development with effective and well-structured maternity wellness programs offered to the new wave of freshly home-grown Indian mommies and babies, with her desi tadka of Ancient Indian sciences in her latest book, Decoding Motherhood, one of the best Maternity books India. Visit Vidhi Beri's official website to know more- https://www.vidhiberi.com/.