Over the past few years, there has been a steady rise in the checking of health aspects and the consciousness leads to alter the dietary needs. The traditional implications in the food items are largely found nowadays and has made a comeback in the form of staple dietary product. Therefore, it has resulted into a healthy food revolution. Nowadays, the increasing consciousness among people are found and there has been a sharp rise in the demand of nutrient rich cereals. Availability of certain products are made, grown as fad for its umpteen health benefits. Citing of health and nutrition information states the fact that millet-ancient grains for a healthier future-pristine organic are perfect for fasting and feasting. A selection of nourishing organic food is vital to maintain health.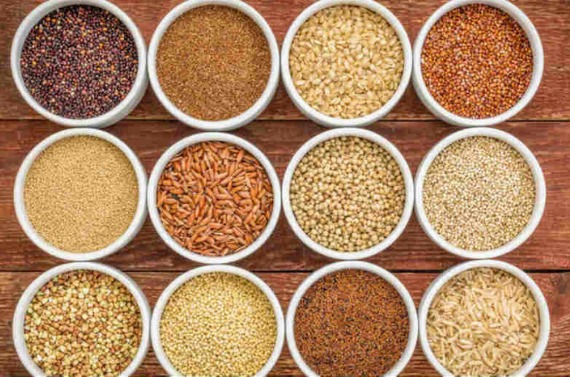 Millets - the power of nutrition
Coarse grains are today's nutria-choices and consumers find millets as a solution to lifestyle disorders. In the recent times, it is found that people are troubled with lifestyle diseases like obesity, diabetes and these are accompanied by several complications. The main cause responsible for this is the intake of food products. It is the time to take a good hard look into the diet chart followed on a regular basis. With the advent of health and nutrition information, the need is to know the foods good for intake and the essential nutrients are marked as vital substances. Here is the thing. There is more to whole grain than wheat, rice and corn. There is a surge in the demand of millets, an incredible nutrition composition pack.
Millets - the reappearance of the nutritive grain in diet plans
The revolution over a period of time helps in the production of important grains like millets, a whole grain which is highly nutritious and individuals can obtain ample nutrition from the same nutritive cereal. A bowl of millets is enough to restore health, includes essential nutrients but forgotten till recently. It has once been part of India's food habits but generally it gets disappeared from plates of daily courses. It is the fast-paced lifestyle which demands smart food packs as well as from which one can gain tasteful servings. It increases the chance to include millets into diet plans. A pack of perfect and tasty meals is highly nutritious, good for health and can be served at ease.
Nutritive information on inclusion of millets
Millets are called 'super cereals', rich in nutritive substances namely vitamin B, proteins, fiber, minerals like magnesium, calcium, iron, zinc, phosphorus and potassium. The gluten free millets are extremely effective in awarding of and curing several health issues. The rich source of millets is filled with goodness of nature and recommended for those who are urging to lose weight. The definite inclusion of the same in diet highly helps to serve the purpose naturally. The item is loaded with several nutritive items for which food lovers like to add millets in daily diet patterns.
Need to incorporate millets in diet and note of commercial aspects of the same
Interesting plans and new discoveries help to live in a better way. Sustaining health is vital as well as easy quick healthy recipes are the wants of individuals. How can be the incorporation of millets help to make palatable servings and visually appealing? Yes, there are options when there is an option to prepare variety of several tasty dishes. Everyone is trying to ride this emerging trend. Large players of packaged staples and processed food manufacturers already introduce millets in various product mixes. Innovation in products are made out of millets and the recipes are made far beyond the constants of baby foods, breakfast cereals to bakery products, desserts, ice creams and liquor products are also made by the inclusion of the same substance.
How to incorporate millets into diet?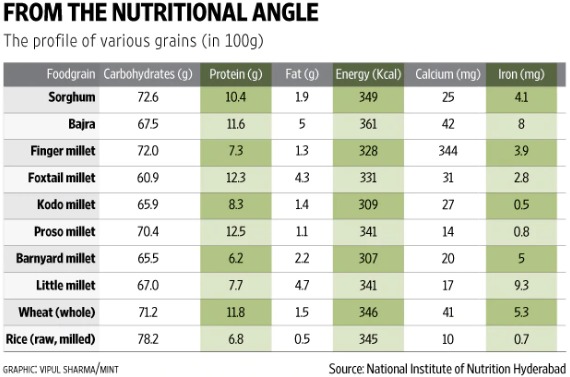 Smart food packs should not only include tasty, spicy, fried stuff but there are alternatives to be looked for. Several recipes made out of millets will not only add taste but keep good health. Millets, the whole grain is such that people of all age groups can find essential food substances out of it. Health is important to consider which hints in the preparation of millets in the form of porridge for ageing adults and growing kids. Millets are found to be beneficial in inclusion of daily eating habits because these are packed with high amount of proteins, starch. Millets is such a cereal that out of its essential food items can be cooked for breakfast, lunch and snacks. namely the unique preparations can certainly alter the taste and unique servings can be opted for sustaining good health. The culinary innovations of food lovers help to prepare several tasty dishes of millets namely like idles, halwa, cookies, millet pulao, millet khichdi.
Types of Millets
The production of millets at large leads to identify several types of the same. One can find unique usefulness in each of the types of millets. Listed are the varied products of millets and one can check the detailed information into these.
Amaranth (Rajgira)
Recently introduced as a major staple healthy food. The particular type of millet enables to serve with several health benefits. The nutritious millet is essentially loaded with micronutrients. One can have the same type to protect the body against injury and infection. It is effective to include in diet to lower cholesterol levels, check weight loss.
Barnyard (Manwa)
This nutritive millet is important to be consumed by all age groups. The economical, tasty food is important to consume in the fasting days. It is lower in calories, rich in fiber, gluten free food and also a rich source of iron.
Buckwheat (Kuttu)
The round shaped millets are extremely useful to have. The hearty, nutty millet is tasty to eat, nutty in taste. Iron, copper, phosphorus is found and it is beneficial to consume, lowers cholesterol levels.
Finger millet (Ragi)
It is another important type of millet essentially needed to check health. The high aspects of nutritional valued product are needed to consume in diet. One can find relief from sufferings of constipation, liver diseases, asthma.
Foxtail millet (Kangni)
These are found as tiny seeds, light yellow in color. It is easier to cook and tasty to eat. Drizzling ghee on top of hot foxtail millet is something appealing for everyone. The steaming pot is ready to be served with essential ingredients.
Kodu (Kodo)
It is largely domesticated in India and one can find placed in the shelves of gourmet food stores. The fiber content of the product is very high and one can find gainful health benefits from the same. One can maintain health wellness by inclusion of Kodu millet in diet.
Little millet (Sama)
Consumption of indigenous millet grain is ideal for consumption of all age groups. It is found in smaller grains and can be cooked faster than any other millets. It is important to consume the same to ward off severe ailments namely cataract, cancer, inflammation, diabetes.
Pearl millet (Bajra)
It is another important type of millet. It is a high energy cereal which contains essentials namely carbohydrates, protein, fat, vitamins. In order to strengthen immunity and restore energy levels, it is highly needed to consume pearl millets.
Proso millet (Chena)
It is another important type of millet required for consumption. It is a rich source of dietary minerals, protein, several forms of vitamins. It is suggested to have some portions of it to take good care of liver health, cholesterol level, sugar level and to get relief from getting obsessed.
Sorghum (Jawar)
This millet is highly nutritive. It is packed with nutritive elements needed for good health. It covers the importance of health nutrition. In sorghums, vitamin A is present and is ideally needed to stay healthy. These are suggested for those who are conscious of maintaining health.