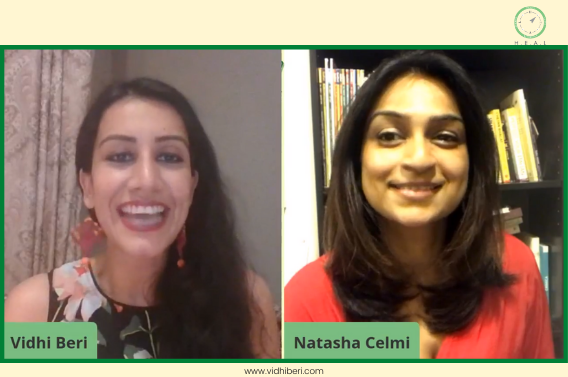 Vidhi Beri had conducted a Facebook Live session with Chef Natasha Celmi, where we will discuss more in details on- "The Art of Health-Fast Fresh Flavourful". She is the author of the new bestseller cookbook, "Fast Fresh Flavourful". Kolkata folks would better know her earlier as the founder of Mama Mia! Gelato and currently, a food columnist at T2, The Telegraph.
She has lived in various parts of the world and trained in culinary schools in Italy and Singapore. Through her online culinary platform, Cucina Mia by Natasha, she now shares her passion for cooking modern cuisine in a practical and simplified manner. With several workshops around India, she has been successful in teaching people the art of cooking global flavours using fresh, local produce without toiling in the kitchen all day. Her food philosophy revolves around the concept of "smart cooking" where cooking is not a chore but something that can be enjoyed even in today's fast life!
If you missed the live session with Chef Natasha Celmi on "The Art of health - Fast | fresh | Flavourful" as a part of "Discover H.E.A.L by Vidhi Beri", Here is a quick summary for you all:
1) Chef Natasha Celmi begins by explaining her definition of health, that is we can eat healthy yet fancy food. She believes in using local ingredients and minimizes the use of packaged ingredients. Chef swears by eating well, exercising well, doing things that let you enjoy life to the fullest which leads to an overall healthy mind, body, and soul.
2) Chef believes life is short and we should all enjoy it by even having over-indulgent foods in small quantities. She doesn't believe in getting trapped into crazy diets which tell us to avoid everything. Chef spoke her heart out by saying that we all should eat like our ancestors.
3) Her inspiration to write her cookbook was her two young boys and her passion for cooking all the daily meals herself. She says "nobody can cook the way I want it to taste". Chef beautifully portraits that cooking is not a chore but it is something to be enjoyed and at the same time to be smart.
4) Chef shares her ultimate "mantra" for smart cooking is to stalk up with large batches of sauces, bread, nuts, and seed, fresh vegetables, all stored in the freezer. She has shared tons of tips and tricks in her cookbook 'Fast Fresh Flavourful'.
5) Chef believes that a meal should be a completely balanced meal packed with healthy carbs and proteins. At the same time, a meal should look like a colourful rainbow that triggers your tastebuds. She shares that all the meals in her cookbook have variations for everyone- for an individual who is a vegetarian to a person who eats meat.
6) In her book, she has beautifully incorporated completely dairy-free meals and it also includes gluten-free ingredients for individuals who have certain lifestyle diseases. Chef says "Food is like a party in your mouth, it should have your vegetables, fruits, nuts, and seeds at the same time texture to give the food crunch, taste, and flavour". She portraits the use of salt in desserts and fruits in salads, as this helps an individual to satisfy all the senses be it sweet, savoury, etc.
7) Chef believes that to make children fall in love with vegetables especially in today's era, parents need to play on the psychology of the children, they need to involve them in the kitchen, be it in the garnishing bits or serving the food. She shares how she aced at making her young boys fall in love with vegetables, by incorporating them into sauces like an orange sauce with carrot or tomato, green sauce with spinach or broccoli and so one. Chef delightfully quotes "Food is a family celebration which should be celebrated by involving all the members in the cooking process".
8) Chef wonderfully sums up the entire conversation by sharing that cooking is all about using seasonal and locally grown, fresh ingredients. She swears by using millets that are a powerhouse of nutrients for all her risotto preparations. She emphasizes the fact that we must make a habit of eating the same meals as our children. Yes, of course, you can add a little chilly or masala to your meal. She says "My boys have their proper cutlery and they feel cool about it".
9) Towards the end, she shares that her cookbook 'Fast Fresh Flavourful' is available on Amazon and indeed is something our regular kitchens must-have. She even went on to share her weekly workshops for practical experience about how she prepares her meals and preps for the entire week ahead.