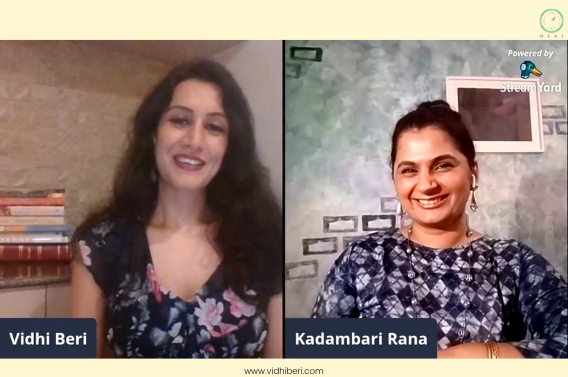 Vidhi Beri had conducted a Facebook Live session with Kadambari Rana who is an educationist. She completed her B.A(Hons) in Economics from St. Stephen's College, Delhi University and she completed her MSc. Economics from Cardiff University, UK. She has been pursuing her passion for understanding and applying concepts of 'holistic' education since 2010.
She is currently working as an independent educationist documenting children's learning experience in varied environments. To help parents and teachers struggling with continuing their children's education, during this 'pandemic', from home, she has been offering her guidance and tips through her authored articles.
The talk was LIVE on the Facebook page on August 16, 7 pm IST, on Vidhi Beri Facebook page.
If you missed the live session on "How to stay Relevant with Homeschooling" as a part of "Discover H.E.A.L by Vidhi Beri", Here is a quick summary for you all:
1. The discussion started with the question 'If Homeschooling can replace face to face classroom-based learning?'. Where Kadambari Rana explains about the two and how face to face learning is different and it can't be replaced.
2. Later in the discussion, Kadambari Rana explains the difference between homeschooling and face to face learning experience.
3. Kadambari Rana also explains to the viewers how they can use this golden opportunity and form a bond with their children. She focuses on some very useful tips which can be helpful for homeschooling.
4. Towards the middle of the session she explains the importance of forming parents-teachers associations which can help in improving the learning experience of the child. She emphasis on using the bad experience of the parent's school days and improving these experiences to good ones for their children.
5. She explains the viewers about how they can control their anger while they are educating their child. She also gives the viewers some tips on how they can bring sports to the routine of their child.
6. Later she discusses about how rural parents can help in the education of their child. Here she tells us how the parents who are educationally backwards should be supported by volunteering individuals, Governments and NGO's who can form, small groups to educate their children following COVID protocols.
7. Towards the last she explains about how to make your child happy from inside in this difficult time and how to give them small goals and achievement of which can give them inner happiness.