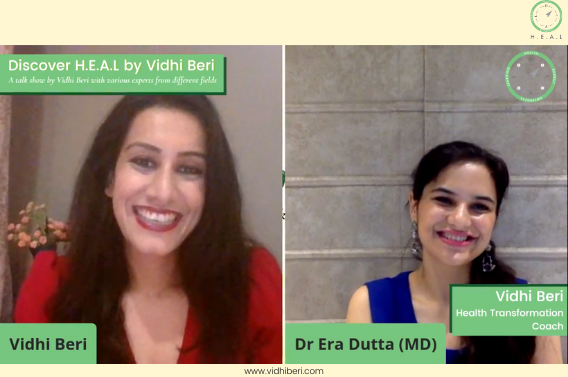 Vidhi Beri had conducted a Facebook Live session with Dr Era Dutta (MD Psychiatry, DNB Psychiatry, MBBS). She is a Consultant Neuropsychiatrist at Fortis hospital. She is also the founder of Mind Wellness. Dr Dutta is a mental health ninja who is determined to make emotional & mental health relatable to all.
An expert at managing Depression, Anxiety, OCD and stress, Dr Dutta has practised in various parts of the country. She has been featured in leading newspapers like Times Now, Zee, Aajtak, TOI and also various radio channels like Radio Mirchi and All India FM. An esteemed council member of the Indian Psychiatric Society, she helps bring about change in the way we Indians look at the need for mental health.
She is also a mother to a wonderful 3-year-old and believes that mothers should focus on "self-care" as much as they care for their little ones.
The talk was LIVE on the Facebook page on August 23, 7 pm IST, on Vidhi Beri Facebook page.
If you missed the live session on "How to be a Momtastic mom in the pandemic" as a part of "Discover H.E.A.L by Vidhi Beri", Here is a quick summary for you all:
1. In the starting, Dr Era Dutta explains how moms needs to be momtastic and how much pressure is there from the society to be one such mom. Then she tells us that how moms forget themselves in the process of parenting their child.
2. Later Dr Era explains how moms can be anixiety free while conceiving or before conceiving a baby. And some tips to the moms to be anxiety-free.
3. Here she also empathizes on mental health for mothers and how they can be mentally fit. She tells us about happy hormones and how mothers can balance their hormones which is a very important part.
4. Towards the middle Vidhi Beri tells us how this pandemic is difficult for some mothers whose families are not supportive to them. Later she tells us about the importance of practical training for parenting should be there for all the parents.
5. Then Dr Era tells us how mothers should share their responsibility with partners if they are not being able to take it up alone and she explains the importance of giving space to the child.
6. Vidhi Beri explains how mothers or parents can learn parenting from their mothers or in-laws. As they have already done this and they can guide better.
7. Later Vidhi Beri and Dr Era explains about the importance of sleep and how-to-fix your sleep schedule. Then they also discuss about meditation which is very important for mothers as it helps to reduce their anxiety.
8. Towards the end, Both of them shares their self-care Mantra. How they keep themselves active and mentally stable every day. And later Dr Era shares an important message for every mother.