A healthy lifestyle is now becoming a necessity rather than a choice. With the kind of hectic lifestyle that we lead including our food choices, opting for healthier options has been trending. Many studies have shown that a proper intake of fruits and vegetables in a day increases your metabolism as well as improves your body's immunity. There has been a direct correlation between a higher intake of fruits and vegetables and better adeptness of our bodies in warding off diseases.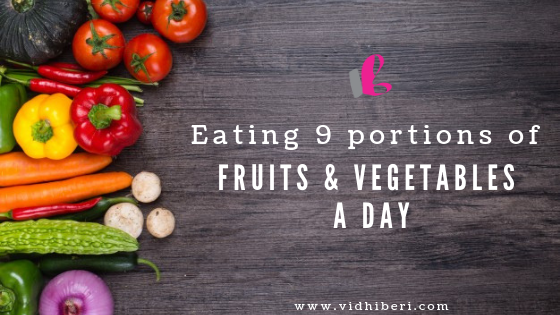 Ideally, an individual needs to intake 9 portions of fruits and vegetables in a day. This has been approved as well as suggested by many health experts. Various studies have been conducted that point out to the noteworthy benefits of indulging in this healthy practice.
How much is a portion?
One thing that would come to your mind is what quantity would constitute as 9 portions a day. How much should a person intake in order to fulfil the criteria of 9 portions a day? A portion is roughly around 3 ounces or 80 grms or one medium-sized bowl. Here is what one portion means for different types:
● One medium-size fruit
● 1/2 cup raw, cooked, frozen or canned fruits (in 100% juice)
● 3/4 cup (6 oz.) 100% fruit or vegetable juice
● 1/2 cup cooked, canned or frozen legumes (beans and peas)
● 1 cup raw, leafy vegetables
● 1/4 cup dried fruit
What constitutes 9 portions a day?
What are the fruits and vegetables that you can eat to complete your objective of eating 9 portions of fruits and vegetables a day? Generally, the idea is to eat healthy vegetables that would provide the necessary nutrients to your body and composes a healthy balanced diet as well.
● Millets: Millets can very well be termed as the revolutionary grain. The iron and fibre content in millets is extremely high as compared to the other grains like rice and wheat. Try to incorporate millets into your diets.
● Green Vegetables: Green vegetables like spinach, microgreens, cabbage, watercress, kale etc are very healthy and rich in iron. They comprise the core of healthy vegetables.
● Cruciferous vegetables: Cauliflower, broccoli, cabbage, brussel sprouts etc come under cruciferous vegetables.
● Yellow Vegetables: Peppers, Maize, Pumpkin, sweet potatoes form the yellow vegetables.
● Fruits: Opt for a fruit salad or take one whole fruit. You should always take two-three medium-sized fruits together for a meal.
How to incorporate nine portions a day?
Now that you know what you should eat, how do you incorporate this into your diet? To some, it might seem like a daunting task but in reality, it is quite easy to eat 9 portions of fruits and vegetables daily along with your other food options. Eating 9 portions a day does not mean that you have to quit eating all your favorite foods or let go of the desserts. You can eat all of that, but the key is to know how to maintain a balanced diet. Here are a few tips that you can use to stay strong on your route to a healthy lifestyle-
Make a Salad- Toss vegetables or fruits together to make yourself a healthy salad.
Soup it up- Soups can be a very healthy option when you want to try something light. Try pumpkin soup along with your dish of the day.
Veg Bowls- Don't know what to eat, go for healthy food bowls. Mix different veggies together and enjoy a sumptuous and healthy meal.
Drink Smoothies and Juices- Smoothies and juices are your best option when you cannot or do not want to have raw fruits. However, make sure to avoid adding sweeteners to the smoothies and juices.
Add Microgreens to your food- Microgreens are wonderful for your health. One tbsp of microgreens has enough fiber, nutrients and protein to actually count for 1.5-2 portions of vegetables.
Eat your vegetables first- Before all your desserts, make sure to eat your vegetables first. You would fill up on the good stuff and not have too much room for the less-than-healthy stuff.
As a popular healthy lifestyle consultant, Vidhi Beri works closely with her clients in order to build their confidence and encouraging them positively throughout the course of her sessions to move towards a healthy and holistic form of living. Visit website for more update on healthy food ideas and recipes. Contact vidhiberi@gmail.com for sessions on nutrition and health. Check out the services on- http://www.vidhiberi.com/programmes