Post pregnancy, a mother's body undergoes a host of changes from being able to breastfeed, emotional changes, weight gain and several other factors, hinting at the need of special care and cautious measures which a newbie mother must undertake. Apart from nutrition another fact that should be taken seriously is the need to choose the right inner wear that suits the demands of the new body. It's about time that they need to change the old stock of bras in their closet and choose ones which enables them to be breastfeeding ready, always!
Therefore, new lactating mothers should start choosing a well -fitting, supportive maternity and nursing bra for comfort, which further prepares her for the breastfeeding journey based on the body transformations.
But often mothers make a lot of mistakes while selecting maternity inner wear for their breastfeeding phase. Listed below are the few simple rules that one needs to follow to ensure smart investment in nursing bras that serves the purpose well.
Buy before it's too late
A woman's breasts will continue to change in size throughout her lifetime, and it is particularly noticeable around pregnancy and post-birth. The recommendation is not trying to squeeze into old clothes that can't really accommodate the growing figure. Pregnancy gets uncomfortable enough without making it worse with ill-fitting clothing.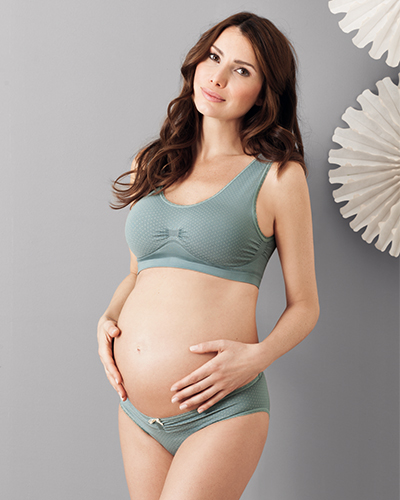 Take out time to get fitted at around eight months of pregnancy before baby arrives. This is the size the breasts should be at approx. 8 weeks post birth when the body has learnt to regulate its milk supply. A correctly fitted bra will not only make you feel amazing but will also provide the body with that much-needed support.
Do I know my size!
Choosing too large a band size
Proper fit is the foremost ask when it comes to finding the right bra — and something women need help with. The most common mistake women make is buying a band size that is too large and a cup size that is too small. If the band is too loose, the bra will not be giving the correct support and lift, and the straps will dig into your shoulders.
Choosing too small a cup size
Women commonly choose bras that are three whole cup sizes too small for them. The bottom rule is to stop worrying of the alphabet the cup size might be going but to choose the right cup size that ensures that all of the side tissue is scooped into the bra and helps avoid spillage and unattractive lumps and bumps.
Not only bust but consider the rest of your body when choosing a bra.
One should always consider the following body-specific tips while buying maternity bras:
For narrow shoulders, try cross-back or multiway styles.
For broad back, prefer balcony shapes.
If the breasts are wide-set, try a low-cut balcony shape.
If the breasts are close-set, try a plunge or push-up shape.
For one breast larger than the other, a T-shirt bra with a pad in the cup for the smaller breast.
For lost tone in breasts from breast-feeding, look for balcony styles with slight padding that will give proper shape and support.
Invest in a bra that has 4-6 hooks and eyes on the back band
At approx. eight months of pregnancy, while getting fitted for the nursing bra one should be fitting the back-band of the bra on the loosest hook and eye. This will then allow room for tightening the back-band post birth as the rib cage contracts. This back band provides 80% of the support of the bra, hence this is very important.
Not asking for help
New mothers usually find awkward to shop for a bra without any help, especially when they are unsure of the choice they are looking for. There comes a need for an expert help which helps in taking decisions easily. So, make use of them! Always ask from close friends, peers, breastfeeding applications and even online portals etc. who help in getting right advices which aids in picking styles that works well for the body. It's a free service that will save tons of time and money.
Consider the wardrobe before buying
Lastly, consider your wardrobe. There are many nursing bras available in the market ranging from everyday basics, contour, soft cups to beautiful fashion bras. One needs to purchase nursing bras that works with their lifestyle and comforts them.