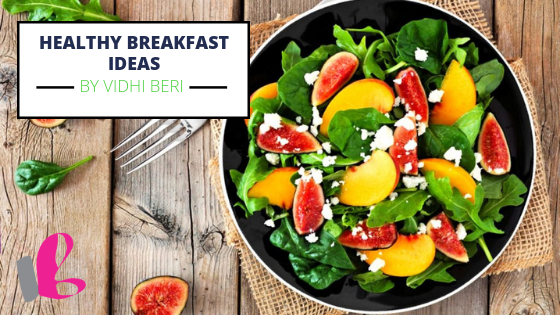 Staying fit has become a necessity now rather than a habit. Now people look ways to imbibe the healthy lifestyle. Due to a lack of time, you need smart ways to keep your health in check. A holistic health coach helps you in attaining your goals. One such smart way is to introduce healthy food in your breakfast since we know is the most important meal of the day. However, this practice is difficult when you have to rush to work early morning. Aim to eat whole grains, proteins, fruits and vegetables for breakfast.
As a healthy lifestyle consultant, Vidhi Beri brings you 7 healthy breakfast ideas when you travel-
Oatmeal: Made from hulled oat grains, oatmeal is one of the healthiest breakfast dishes. A popular choice for breakfast, oatmeal has 68 calories. Heartily available in the market, you can get fresh oatmeal and cook it yourself. Easy to prepare if the taste is too bland for your liking, you can mix veggies as well as decorate it with berries like strawberries and blackberries or fruits and nuts. Oatmeal is very healthy in its own accord, however the other alternatives to the otherwise plain oats make it even more healthy for you.
Eggs: A simple soft boiled egg or scrambled eggs or even an omelet. Eggs never leave you hanging. Consuming eggs in breakfast is a very healthy choice. Eggs are rich in vitamins, proteins and calcium. It also has multiple health benefits which keeps your stomach fuller than a toast or a cereal. Fitness experts swear by eggs as a great healthy food ingredient..
Nuts and dried fruits: Always carry a jar full of nuts or dried fruits- almonds, peanuts, walnuts, raisins, figs, prunes, dates etc. Nuts and dried fruits are very healthy and nutritious. Instead of consuming unhealthy or sugary items, treat yourself to some nuts or dried fruits for the hunger cravings.
Fruits: Fruits are very important for a balanced diet. They provide the necessary vitamins and minerals that can only be found in abundance with them. Get yourself a bowl of fresh fruit- banana, papaya, apples, pomegranate or some citrus fruits or strawberries and blueberries. You can also grab a bowlof mixed fruits or a fruit salad. Fruits are a must have item in your breakfast list.
Green juice: A wonderful and an exceptionally delightful add on, green juice is a definite drink that should replace you daily caffeine or milk tea. Fill your travel mug with a freshly squeezed serving of green juice along with another breakfast dish. Remember to never replace food with juice, it should always be an add on. Churn a mixture of kale, cucumbers, lemon, ginger and apples and strain it into your travel mug. The fresh juice is very healthy and delicious.
Superfood bowl: Mix yourself a combination of whole ingredients (quinoa, avocado, brown rice, veggies- raw or roasted) or basically any healthy food ingredient you can think of. Mix and match upon your whim and fancy. The reasons superfood bowls are popular are because they are easy to concoct, you can mix and match ingredients which leaves you with plenty of choices and it is extremely kid friendly. Churn yourself a bowl and head straight out.
Sprouts: The simple moong bean sprouts is a very healthy breakfast choice. Sprouting brings out the enzymes in the germinated beans seeds which makes it easy to digest. It increases the proteins, vitamins and minerals of the seeds. Eating a big bowl of sprouts for breakfast along with a glass of juice makes you feel full. You can also cut cucumber and tomatoes in the sprouts for taste benefits.
Learn more about health and fitness, get guidance for a healthy lifestyle by a highly qualified professional.